Our approach to assessment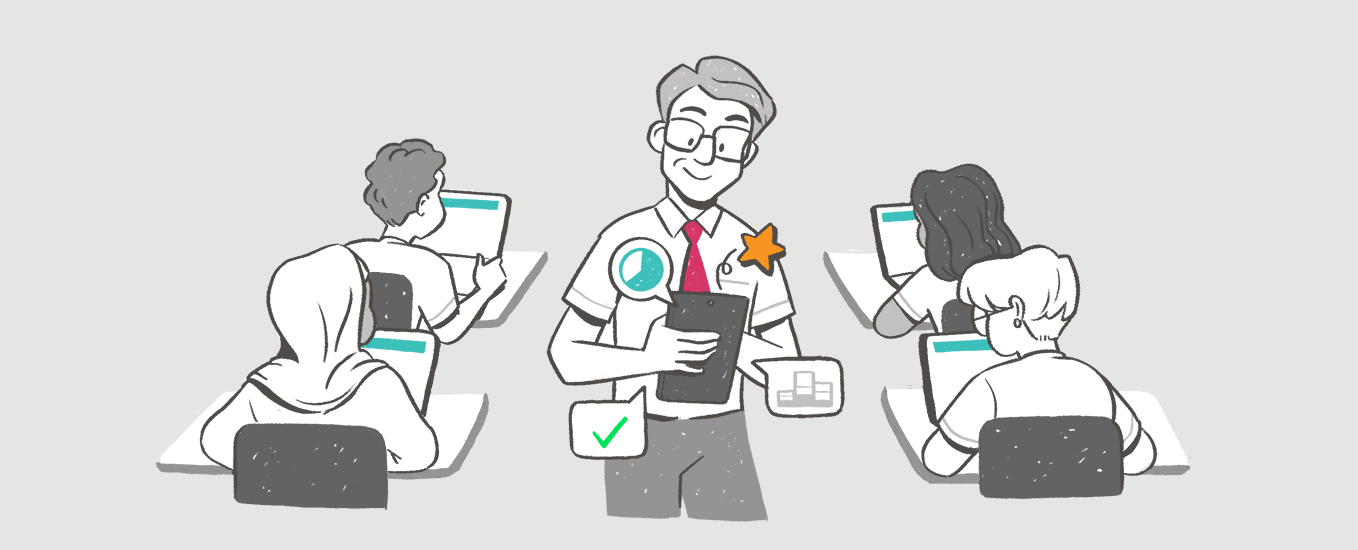 Assessment is a core part of what we do as teachers. It allows us to measure student progress, informs our reporting and helps us to reflect on how successful our teaching has been.

To gain accurate information and keep students engaged in the process, we need assessment tasks that are rigorous, rich and set in real-world contexts. Writing tasks like this takes time and we understand that your time is precious. That's why we've tested ourselves to make sure Stile's assessment tasks provide you with the highest quality information.
What is Stile's approach to assessment?
Stile incorporates assessment for, of and as learning into every unit. Each of these types of assessment are key parts of the learning process. All questions in Stile are intentionally designed with these categories in mind. We never ask a question just for the sake of it!
What is it?
Where is it found in Stile?
Assessment
for learning
Formative assessment tasks where results
are used to adjust teaching strategies
and students use the results to adjust
their learning strategies.
Pre-tests
Check-ins
Key Questions
Assessment
as learning
Formative assessment where students
self-assess to determine what they can do
and what they could improve on.
Driving Questions Boards
Thinking routines
Scientific investigations
Engineering challenges
Learning journals
Stile X: Success criteria
Stile X app quizzes
Assessment
of learning
Summative assessment tasks where results
are used to measure student achievement
against outcomes or standards.
End of unit tests
Research projects
Engineering challenges
Assessment for learning
Formative assessment is a highly effective strategy for improving student outcomes (Hattie, 2009).
Pre-tests help you understand students' prior knowledge of concepts relevant to the unit.
Stile units also include regular formative check-ins. Check-ins are assessment for learning, which provide timely opportunities to make sure students have grasped key concepts before continuing to build on these as the unit progresses.
Each lesson in Stile includes at least one Key Question, marked with a star icon, where students demonstrate their understanding of the lesson's learning goal. These questions are designed to be used as assessment for learning, helping you to determine your next teaching steps based on students' current understanding.
Assessment as learning
Assessment as learning takes place whenever students are their own assessors or are reflecting on their learning.
A wonderful example of assessment as learning is the Driving Questions Board, a strategy used in Stile's newest units including The Nervous System, Classification and Biodiversity and Waves. The Driving Questions Board requires students to reflect on and evaluate their learning. By asking questions at the beginning of the unit, students are motivated to engage in the learning process to uncover the answers. When students revisit their questions throughout the unit, they reflect on whether they have learned enough to answer them, if they need to learn more, or have developed additional questions. This process guides students to determine what they know and what their next steps should be.
Thinking routines are included throughout Stile lessons to encourage this process of reflection
Engineering challenges and many scientific investigations are also assessment as learning, as they include rubrics designed for self-assessment. These rubrics encourage students to consider which criteria they have met and what their next steps would be to progress further.  
Some newer units also incorporate a learning journal, which prompts students to keep a record of how their understanding of the topic has progressed. Take a look at our Nervous System unit to see an example of this.
Stile X is designed with assessment as learning in mind. The booklets contain a "Check your understanding" section at the end of each revision notes section where students use success criteria to assess their understanding of key concepts.  They are also prompted to rate their understanding of the relevant learning goal after answering each practice test question.
Quizzes in the Stile X app help students understand which terminology they understand and which words they need to keep learning. The app then supports them to learn these words by quizzing the words they are less familiar with more frequently.
Assessment of learning
Each unit has a summative test for assessment of learning. These help you to measure student progress and formulate a judgement about achievement against curriculum outcomes.
Stile's end of unit tests are designed to allow students to apply the skills and knowledge they have developed throughout the unit in real, relevant contexts.
Research projects require students to apply their knowledge from the unit to a new context through research.
Engineering challenges are often used as summative assessment opportunities with rubrics for assessment purposes.
How can I make the most of Stile's assessment tasks?
To benefit from our most up-to-date assessment tasks, make sure you're using the most recent version of each Stile unit from the Stile Library.
The assessment tasks described above are incorporated into a unit's sequence of learning, so all you need to do is follow the lessons in Stile! Be sure to read the helpful teaching notes for each lesson in Prepare Mode for useful tips and tricks. We're in the process of developing detailed teaching plans for each of our units, which break a unit down into an easy-to-use weekly schedule. Take a look at these Teaching Plans for The Nervous System, Waves and Energy. These documents will provide you with everything you need to use Stile's assessments with your students.

As always, we'd love to hear your feedback. Let us know if our approach to assessment is hitting the mark by dropping me a line at alexandra.russell@stileeducation.com.