With the overhaul to the Queensland senior science syllabi, we know that a lot of you are looking for resources to prepare your students for the new requirements. We've put together this collection of resources to assist you in preparing your Y7–10 students for senior science with Stile.
Stile resources
1. Skill builder lessons
Our skill builder lessons cover the fundamental skills needed for major assessments in senior science. View the skill builder unit here.
2. Assessment templates
Our assessment templates are designed for junior students but mirror the senior requirements. They're located in our Teacher Resources folder with other useful templates here.
View the data test template here.
View the student experiment template here.
View the research investigation template here.
3. Learning intentions and success criteria
With our latest feature: key questions (or success criteria), you can assess if your students have achieved the cognitive level required to meet a lesson's learning intentions. Read more here.
4. 'Preparing your students for senior science in QLD' webinar.
Watch this webinar where we how you how to use Stile's resources to ensure you and your students feel confident and ready to tackle senior science head-on.
If you'd like an overview of how our lessons help to develop the essential skills needed to be successful in senior science, check out this 2 minute video!
Major assessments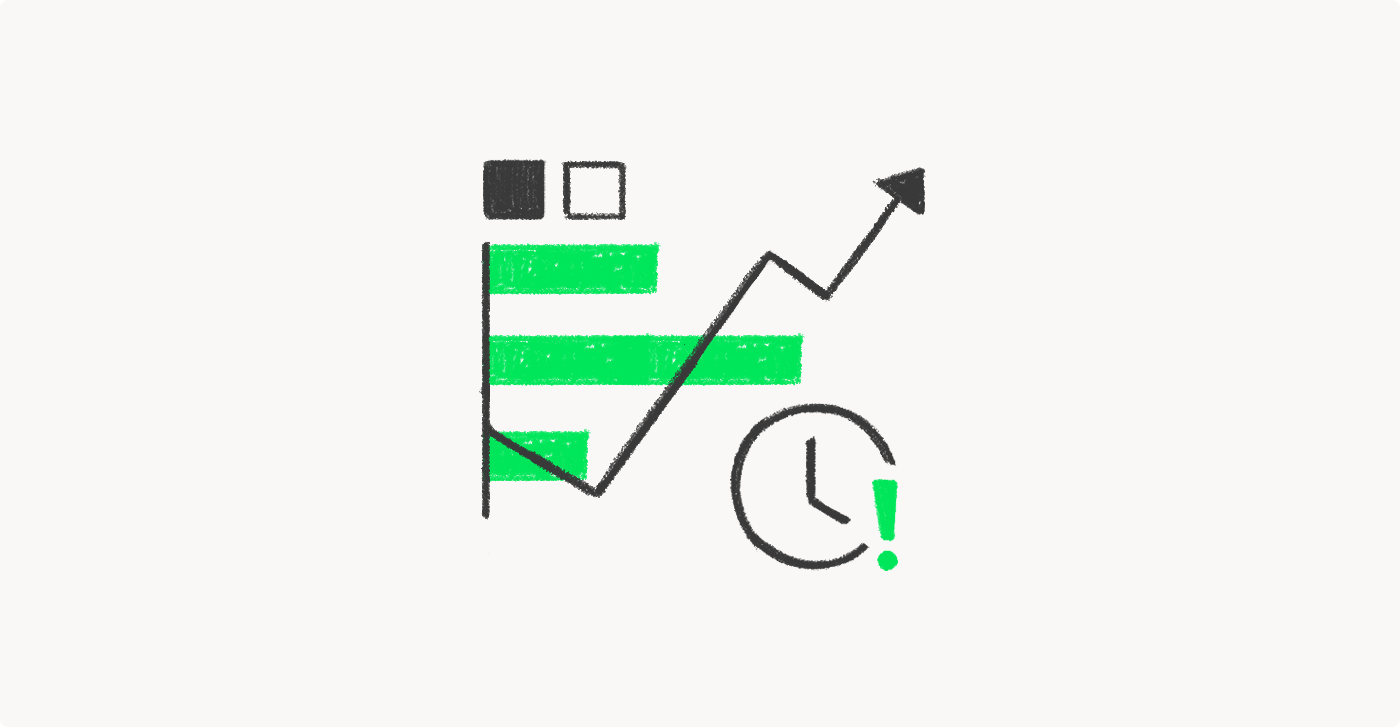 The updated senior science syllabi have put increased pressure for students to perform on a range of assessment tasks, not just the exam. But, as we demonstrate below, our skill builder lessons help prepare your students for success in these major assessments.
The data test (worth 10% of their total grade) requires teachers to compile a minimum of two different datasets related to the content in Unit 3. Students must be comfortable exploring data to succeed in this assessment. They must be able to identify trends, patterns and relationships in data, and identify limitations or uncertainties in the dataset. They should also be able to interpret evidence to draw conclusions.
The student experiment (worth 20% of their total grade) requires students to modify an existing mandatory or suggested practical covered in Unit 3. They determine their own research question and hypothesis and then must collect, synthesize and analyse their own data to be able to answer this question. This assessment also requires students to analyse and interpret the evidence, investigate phenomena, evaluate the experimental process and communicate their findings in a poster, 9–11 minute presentation or written report.
The research investigation (worth 20% of their total grade) requires students to evaluate a claim from Unit 4 by researching and interpreting secondary evidence. Students are expected to acquire evidence to make conclusions, as to whether they support or reject the claim. This assessment also requires students to develop a research question, analyse and interpret the evidence, investigate phenomena, evaluate the experimental process and communicate their findings in a poster, 9–11 minute presentation or written report.
Skill builder lessons
View the skill builder unit here.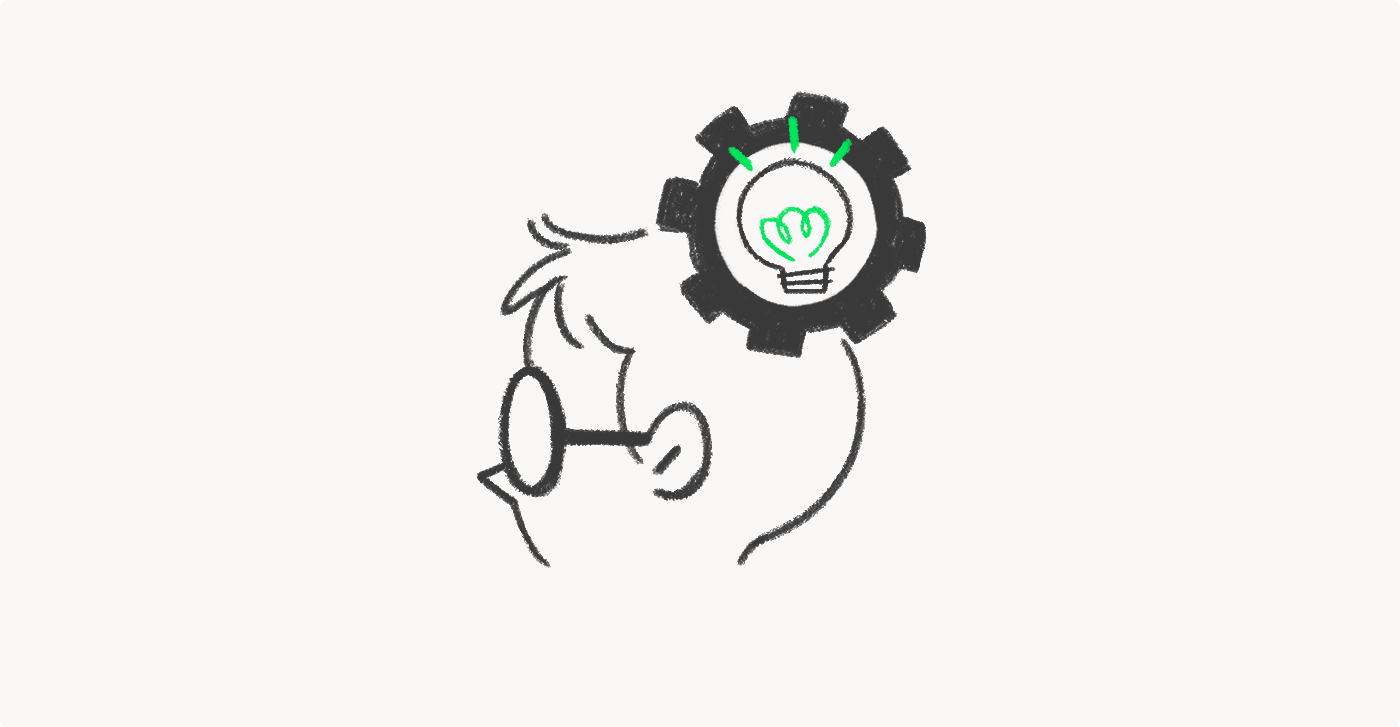 We've been working hard to ensure Y7–10 students develop the essential skills needed to succeed in senior science and beyond. To help your students develop these skills, we've created a unit of skill builders. These lessons explicitly teach students essential scientific inquiry, literacy and numeracy skills. They also directly align with what is required for Queensland senior internal assessments. This means students will build on these skills throughout Y7–10 to appropriately prepare them for success in their senior years.
Like all lessons in Stile, the skill builders have been carefully designed to scaffold students from lower-order to higher-order questioning. The skill builders include videos, visual supports and worked examples to reduce the initial cognitive load on students, making sure that all students are able to achieve success.
Alignment of skill-builder lessons to major assessments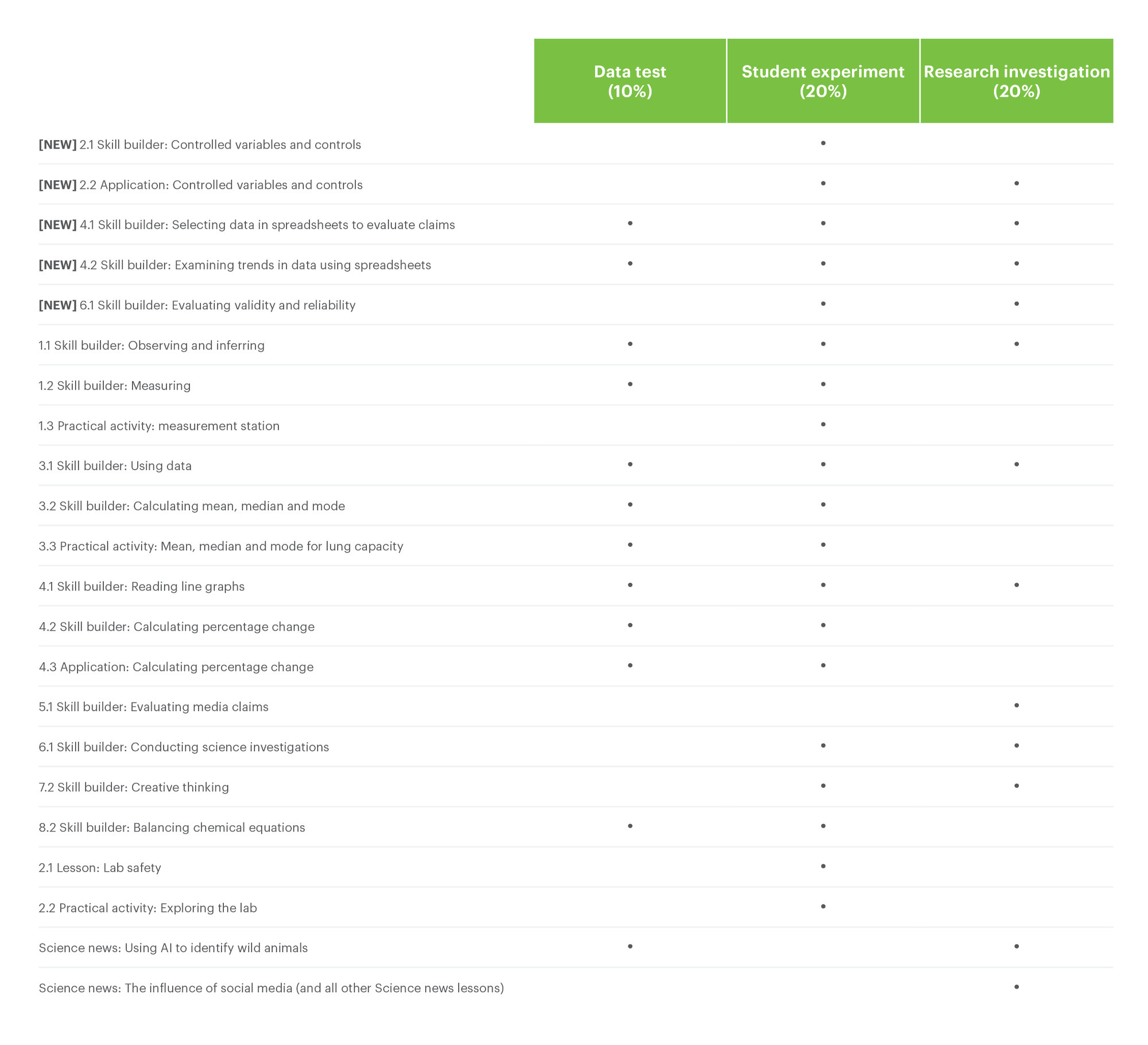 Skills interwoven in all of our lessons
Skills aren't only taught in our skill builder lessons. All of our units are designed to integrate scientific knowledge with scientific skills. This means that students have multiple opportunities to apply skills to many relevant real-world scenarios. For example, in our Ecosystems unit students apply their understanding of symbiosis to interpret charts about the relationship between a species of crab and coral. This approach means that students regularly practise these essential skills and think more deeply about what they're learning.
Assessing student progress against senior requirements with our assessment templates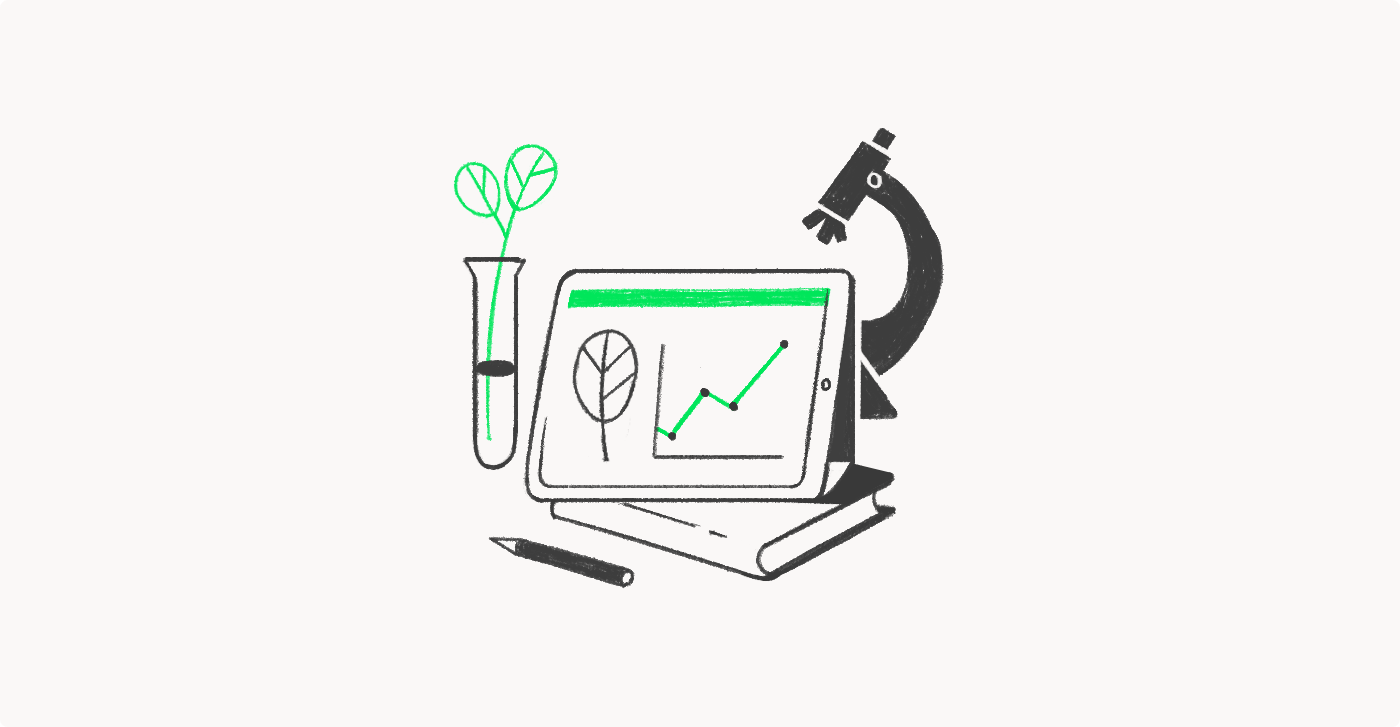 We've also created three easy-to-adapt internal assessment templates, purpose-built for Queensland teachers who want to implement assessment tasks that mirror the senior requirements with their junior students. These templates can also be customized to become bite-sized skill activities or used as practice formative assessments with some guidance from the teacher.
Data test template
View the data test template here.
Being able to critically evaluate data is an essential skill for all students, regardless of whether they choose to continue with science or not. This has been increasingly evident with the use and presentation of data during the COVID-19 global pandemic. To support data analysis skills, the data test template is designed to make sense of different datasets by accurately collecting, presenting, analysing and evaluating them. The template contains a range of Stile widgets that students can use to present and question their datasets with. These include auto-marked multiple choice and interactive canvases, graphs, tables, written responses, open responses and so much more. All teachers are required to do is populate the template with data relating to a concept of their choosing.
Student experiment template
View the student experiment template here.
For students who wish to pursue careers as scientists, it is vital they understand how scientists do science. Scientists are constantly refining and refocusing their scientific investigations, so understanding the steps in the scientific method is key to their success. The student experiment template is designed to support students as they modify an experiment. Students are prompted to select one of their favourite practicals and identify a part of it they wish to change. Their goal is to make the experiment more accurate, valid, reliable or precise. They also need to justify their decisions for the modifications. This experiment requires students to utilize a wide range of scientific skills. They are prompted to write a focused research question and hypothesis and then refer back to these at the end of the lesson to critically evaluate their work. This template can be easily adapted to suit your needs. For example, junior students could all be given the same experiment to modify, while Year 10 students could select an experiment of their choice.
Research investigation template
View the research investigation template here.
Students need to be able to question and critically evaluate sweeping claims that are made in today's media. The research investigation template is designed to help students evaluate such a claim. You may like to provide your students with a claim or students can select their own. Alternatively, our science news lessons are great case studies for students to use as inspiration for their research investigations. The template also requires students to find credible sources of information to research their claim and analyse secondary data. They then need to decide — based on their acquired evidence — whether they support or reject their claim.
Each of these templates gives students the opportunity to reflect on what went well and what could be improved. This is a helpful tool to refer back to when they are doing their summative assessments.
Learning intentions and success criteria
Our latest feature release — key questions — will also be useful in preparing your students for externals and bringing their attention to the questions that address a lesson's learning intentions.
Key questions, also known as success criteria, are questions that demonstrate whether or not students have met one or more of the learning goals (also known as learning intentions) for the lesson. While other (non-key) questions in a lesson will also be related to the lesson's learning goals, they're there to either scaffold students up to the required standard (i.e. lead up to a key question) or to provide an opportunity to practise skills and achieve mastery.
We've highlighted one to three key questions in each lesson across our Years 7–10 collection. By only reviewing student responses to these key questions, you can more rapidly ascertain if the appropriate standard has been met. This doesn't prevent you from providing feedback on non-key questions, but we'd suggest that this is less necessary: only do it if you really have time.
As well as including key questions in every lesson, we have also made it possible for you to choose to label your own key questions in any lesson.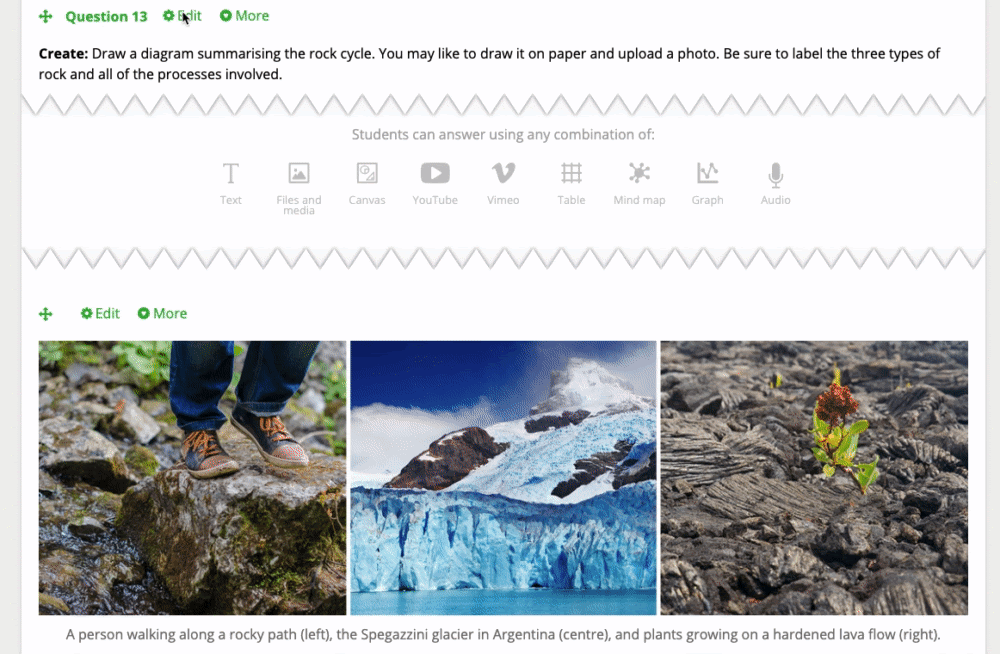 Need anything? Get in touch with our QLD team!
We hope you enjoy all of the new content we've created to support you and your students with their assessments but also to help them build the essential skills they will need for science and life.
If you need a hand with anything please don't hesitate to get in touch with our QLD team! They're ready to assist you in tackling the fundamentals of senior science in Y7–10.
Contact details
Meadhbh O'Brien
Teaching & Learning Expert
meadhbh.obrien@stileeducation.com
0409 834 500
Dave Canavan
Head of Schools — QLD
dave.canavan@stileeducation.com
0438 606 412
Clare Feeney
Head of Product
clare.feeney@stileeducation.com
0447 945 533