Women in STEM - no lab coat needed
Celebrate women in STEM this International Women's Day in Stile!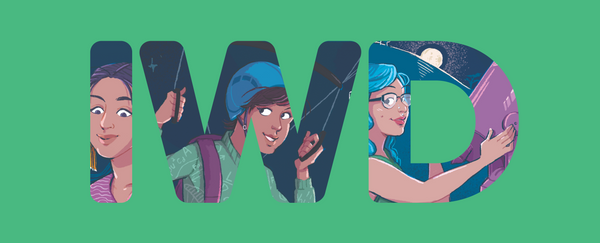 What do you picture when you think of a scientist? A white male in a lab coat with crazy hair experimenting? This stereotype might feel a bit outdated, but guess what? Most young people still picture this. Check out this article on 5 decades worth of data!
Stile's on a mission to crush this stereotype once and for all! But we need your help.
Don't make plans this International Women's Day; we've got you covered. Our talented scientists and designers have created a beautiful poster and video duo to celebrate three diverse women in STEM.
You'll have the chance to hear from three women using STEM in wonderfully diverse ways. We've found women that don't need a lab coat!
Deniz Uzunkaya – a paraglider and bartender using physics by day and mathematics by night
Suzanne Kite – an Indigenous Lakota artist who uses machine learning and AI in her artwork
Karlie Noon – a Gimilaraay woman and astrophysicist whose work is inspired by local Indigenous stories and discoveries

Did you know students show more understanding when they see women in science resources? And female students perform better in academic tasks when women related to the task are featured on classroom walls? If you haven't already decorated your classroom with women in STEM, now's your chance! This poster will be the talking point of any classroom.
Top tips for celebrating International Women's Day
We know you're tight on time, so we've devised five key strategies to get involved this International Women's Day. But don't let us hold you back. You can use these activities anytime, whether it's between units or even at that weird time at the end of term.
1. If you've got 5 minutes: Play the video and discuss the importance and involvement of women in STEM.
2. 10 minutes: Play the video at the start of class as a springboard for content you're already exploring.
3. 15 minutes: Play the video, then run a Think, Pair, Share activity using the acronym STEM in a 4x4 grid.

- Start the activity by discussing how:
Deniz uses Science when paragliding and Maths when bartending.
Suzanne uses Engineering and Technology by harnessing AI to create art.
- Students can then personally explore how they use STEM, pair up and discuss, and then share their thoughts as a class.
4. Lunchtime event: Play the video at lunchtime as an open invite for all students. Then have a Women in STEM guest speaker talk about their experiences in the STEM field.
5. 45 minutes: Run a class activity where students draw what they think a scientist looks like. Have a gallery walk where each student looks at each other's drawings and asks questions. Want to run this activity in Stile, head on over to our Introduction to Science: Who does science? Then present the video and poster and discuss if/how they would change their drawings afterwards.